Today we're announcing that we've supercharged the engine that powers our relationship mapping features. A lot of those changes have happened under the hood here at CharityCAN, and aren't immediately apparent. While you can't see some of the differences to the platform yet, we're also announcing the first of the new features that this new engine enables: the ability to modify a saved profile's relationship map by adding or removing charity and corporate board positions.
On saved profiles that currently have charity boards listed, you can add and remove board positions by hovering over the position you're interested in:

On saved profiles without current board positions, you can now add different profile sections – corporate and charity board positions, as well as a FullContact social media summary: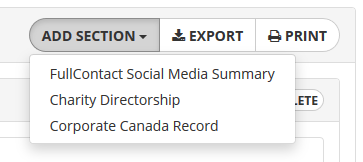 Since our relationship maps are built on these charity and corporate board connections, as you add and remove board positions, you'll see the saved profile's relationship map update in real time.
The best part about this new relationship graph engine is all the new possibilities that it opens up. We've got a few more features that use the new engine in the pipeline that we're excited to share with you soon! If you have an idea about how you'd like to use our relationship map data, please let us know!