After months of work behind the scenes, today we're announcing a new way to do prospect identification in CharityCAN: a new feature we're calling Donor Discovery.
Donor Discovery uses our donation record dataset with our relationship graph to give you a customizeable way to find new potential donors.
Set up filters like geographic region, donation amount, connections, donor type (individual, foundation or corporate) and cause to cast as wide or narrow a net as you'd like. We'll show you donors who have given gifts according to your filters but who haven't (yet!) made a recorded donation to your chosen organization.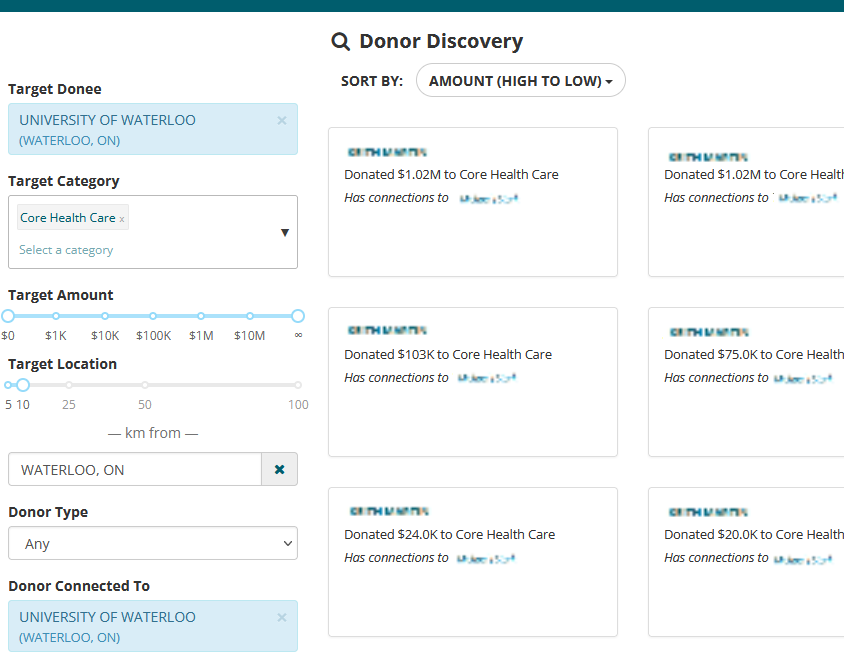 For example, a university looking for funding for a new medical school building might look for health care donors in their geographic region with a connection to the university's board of directors. A smaller local charity might look for individual donors to their cause giving amounts of under $1,000.
Once the results are generated we'll show you how much the donor has given in the past and how they're connected to your organization, with a link to the donor's profile so you can quickly qualify your prospect.
We hope that by using relationship data as well as past donation data, we can surface prospects with a higher affinity to your organization and give you a path to connecting with them.
If you have a CharityCAN account already, please try out Donor Discovery and let us know what you think. If not, you can give it a go by requesting a trial.
Happy searching!