Avenue Donor Data is a new application available in the Blackbaud Marketplace that creates an add-in tile in your constituent pages to display a donor's net worth, annual income, dwelling value, and annual donations, based on their postal code.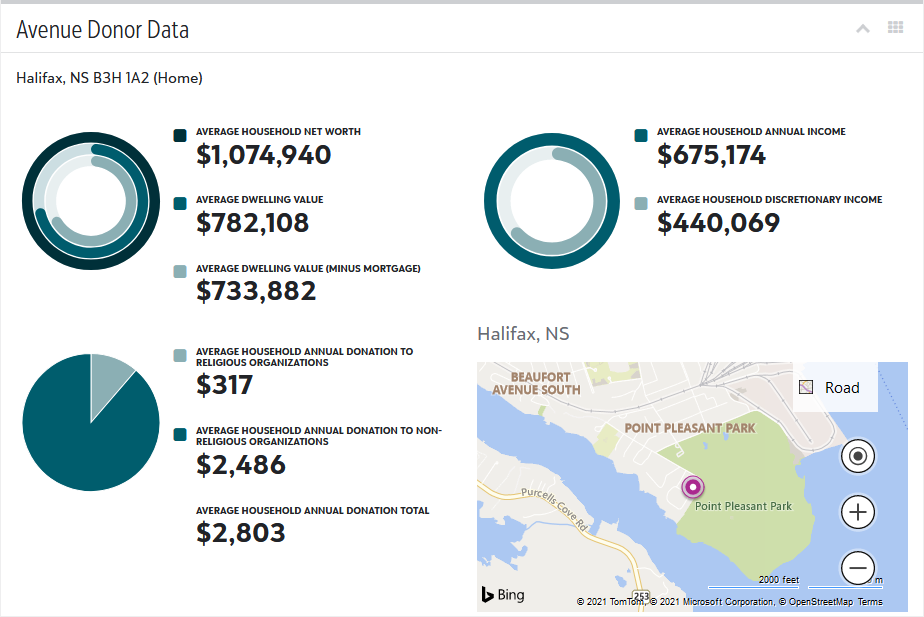 We think this application will be useful for any Raiser's Edge user or fundraiser that either doesn't have a team of prospect researchers behind them to create donor profiles – or a fundraiser who might be supported by prospect research but who needs data now and at their fingertips.
Imagine a time when we get back to galas and golf tournaments and a fundraiser meets a donor over cocktails (full disclosure – I just got my second COVID vaccine dose and so this actually seems like more than a hypothetical right now!) and wants to find a little bit more about them and if they might be a major gift prospect.
Since Raiser's Edge NXT and Avenue are mobile friendly, the fundraiser can log in and quickly view Avenue's data to qualify the donor on the spot using their smartphone.
If you're interested in installing Avenue or want to find out more, including our pricing options, checkout our new Avenue Donor Data product page.
Avenue Donor Data is just a little window into some of the data we have in our main CharityCAN prospect research tool. If you're already a CharityCAN user, you have access to the same data in Avenue via our Household Data Search.
If you want the same kinds of data that Avenue has to offer in your donor management system, then you might be interested in doing a donor screening with us. We can append similar data (plus a whole lot more) to your donor file to help you qualify your whole database at once.
If you're already a CharityCAN user and a Raiser's Edge NXT user, you might also be interested in CharityCAN for Raiser's Edge. It includes the same constituent add-in for household data, plus add-ins for relationship and donation data too.
And if you're interested in something totally different, get in touch directly. We love to hear what ideas for projects you have and see if we can help you bring them to fruition.