Today we're announcing the first of a couple of new additions to CharityCAN: FullContact Data Enrichment!
FullContact is a service that, in their words, "transform[s] partial identities into complete profiles to connect with prospects." We've created an integration with their service that lets you use an email, twitter handle or phone number to flesh out your personal prospect profiles with a summary of your prospect's position, location, social links and a summary of topics they may be interested in. On any of your personal prospect profiles you'll now find a search field like the one here:

If your search is successful, you'll get a profile that looks similar to this one: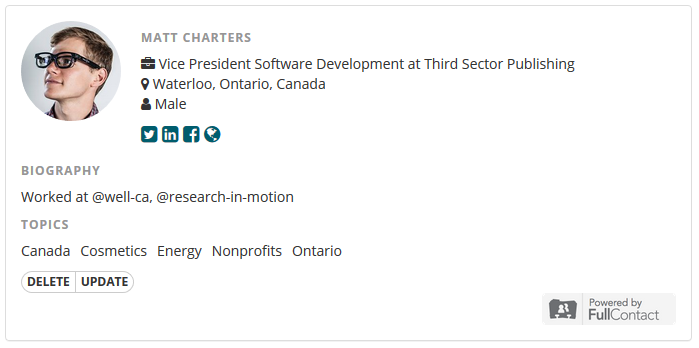 We don't store any of the information you send us to look up your prospect, we just use it to look up the FullContact profile with their service.
We've also used the FullContact data to round out our corporate profiles. Now where available you'll see a company's FullContact information on each company profile page: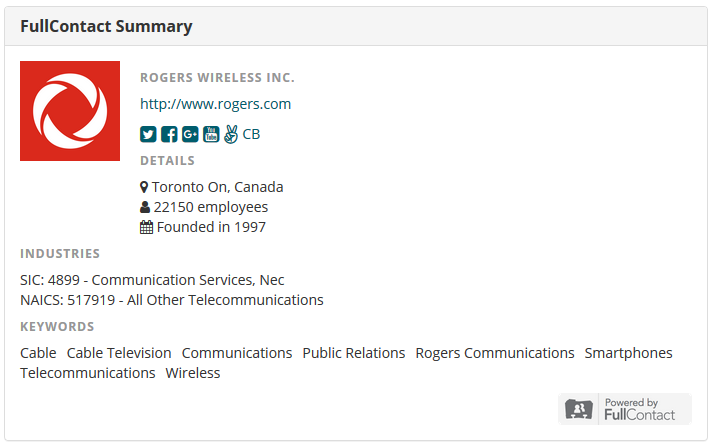 If you're wondering where to find our company profiles, we've got that covered for you in our second announcement from today on organization integrated search!
Please check out the new FullContact data and get in touch if you have any questions or suggestions. We'd be happy to hear from you!